Gangsters, ghosts, murders, a pissed of passive-aggressive would-have-been-mother-in-law, a hunky police officer, and a pet skunk.  What could be better?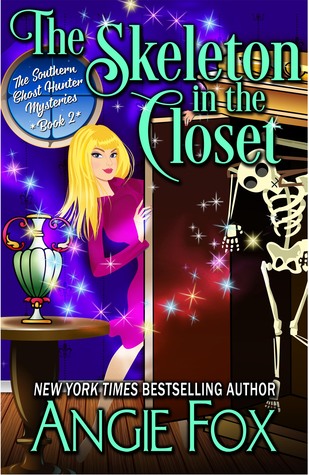 The second (full length anyway) installment of the Southern Ghost Hunter series, The Skeleton in the Closet by Angie Fox, was another awesome little paranormal cozy!  And I can't wait to read the third!
As a reminder, Verity, a girl hard on her luck because of a jerk of an ex-fiance, saw her life change in the first book when she dumped an urn full of the ashes of a 1920s gangster on her rose bushes. The gangster ghost, Frankie, is grounded to her and her property. In this installment, her town of Sugarland is preparing for an annual festival that will be filmed for a documentary about the Civil War – the "Ball in the Wall" (love that name!).  Frankie is still funny, Verity still doesn't really shy from danger and is she is still sarcastic and witty (although not quite as much or as often here), the dialogue between characters is amusing and feels real. Melody, Verity's sister is a great tool for info (she's the Hermoine of this story, being the resident librarian) and Ellis is the hunk police officer who asks Verity for help investigating the murder.
This installment stayed true to the recipe for the cozy, even the paranormal type.  There was a lot going on, some misdirection (but I love that the misdirection headed down the "Virginia did it" road was really fun because of the history between Virginia and Verity), some mayhem, and a lucky discovery or two.  And what makes it even more fun is the ghostly element – there's enough to keep things ever so slightly creepy but not so much that this isn't something that can be read while smiling the entire time.  The "southern" way of making sure someone knows they are unwelcome, all with a smile, was on full display here during Verity's visit to her ex-almost mother-in-law.  And it was awe.some.!!!  And, if I were paying more attention, some of the details wouldn't have been surprising because the title is pretty meaningful (**hint, hint**) here.  I had so much trouble putting this down because it was cute and fun and all that I want out of my paranormal cozies!
I love everything Verity that I have read so far, and hope there are many many encores!