While my reading has suffered, my posting has suffered worse.  I just realized that I have read about a baker's dozen books, across 4 series, and haven't added a page or post or review on any!  So, this little "data dump" will be to give a few little tidbits on each (by no means am I catching up and reviewing 15 or so books all in one shot – that post would be epically long and take forever to finish, only exacerbating the lack of posts problem).
Here's what I have read:
The Jolie Wilkins Series – all 5 – by HP Mallory
The Bryn and Sinjin Series – both (although I would argue these really are just an extension of the Jolie Wilkins Series) – HP Mallory
The Hot Damned Series – 5 of the 6 published so far – by Robyn Peterman
The second in the Lynburn Legacy – Untold – by Sarah Rees Brennan
The first two in the Magisterium Series – The Iron Trial and The Copper Gauntlet – by Holly Black
And I think I am missing something….
Anyway, let's have a little fun with all that.  Here's the quick and dirty on each series.  Bryn and Sinjin are hot, Hot Damned is much hotter, Jolie Wilkins has its moments, the Lynburn Legacy is a YA and therefore pretty cold but not completely as there is a love story to it, and the Magisterium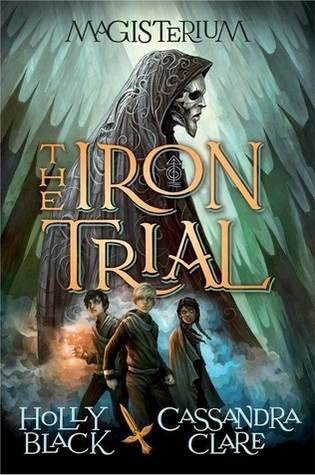 books are also YA and colder than Lynburn.   Jolie Wilkins is
your typical girl didn't know she was a witch, man comes to rescue her from that boring normal non-magical life.  She is destined to be queen or something like that and save the world.  Cue the sexual tension, love story, bad guys wanting to take over the world, blah blah blah.  Not terribly unique or original, but a fun little escape just the same.
Bryn and Sinjin is a shift from the perspective.  What I mean is that instead of Jolie's destiny being the primary focus, Bryn (Jolie's twin sister) and Sinjin (the loveable handsome ancient Vampire who was previously in love with Jolie but lost to Rand) and their developing relationship are the focus.  Another fun little outing, a little more steam.  But a cliff hanger big enough to leave me pretty annoyed if there isn't another.  There are only 2 listed on goodreads but I swear I saw something on facebook or somewhere about at least one more coming.  And heaven forbid, it looks like they will be from Sinjin's perspective.  Yikes.  I personally am not a fan of the romance novel from the guy's perspective.  Even worse, the statement on HP Mallory's facebook page says:  "…decided to make this book (and maybe the next one.  Not sure but going to switch back and forth, I think) in Sinjin's perspective!"  There are very few novels I have read where the flip-flop in perspective works.  So, fingers crossed that is not what we get next.
The Hot Damned series is… well… in a word: weird.  Out of the first 4, 2 is more about Dixie, the cousin of Astrid our main protagonist from 1, 3 and 4.  I 1 Astrid gets turned into a Vampire.  And kills her wack-job of a mother and her demon father.  And she meets her
destined mate, a Vampire prince.  In 2 she finds herself in Hell with a cast of characters too weird to do justice to: Mother Nature (her Grandmother), Satan (her Uncle), God (another Uncle), Dixie (cousin), Seven Deadly Sins (all more cousins), Mister Rogers, Hemingway, and others.  And we discover **spoiler alert** she is "Compassion", a True Immortal.  In 3 Dixie is sent to Earth to find herself of something like that.  And she meets and falls in love with the Angel of Death.  In 4, Astrid's baby with crazy growing power and all sorts of magic turns out to be the most powerful Immortal ever.  And there are Fairies with names like The Kevin (with "The" being the mark of an old fairy), trolls, demons, and all sorts of other craziness going on.  Another fun little romp, with some steam, if you can get past that there are moments when it felt like the author was trying to do too much with the vampire, demons, family tree thing.  And don't, like I did, be expecting the Rogues that were such an issue in book 1 to really mean anything in 2 through 4, they just don't really ever turn into anything that matters.
The second in the Lynburn Legacy, which while I am dealing with before the Holly Black books, I read after and just finished.  About 20 minutes ago.  And I am furious.  Furious at some of the characters.
 It is a little hard to consider some of the "good guys" good.  Lillian, while on the same side as our young adult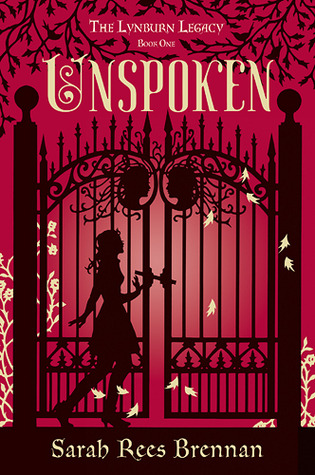 protagonists is such a snotty bitch, who has delusions of grandeur, and wants to rule the town is just not quite as loathsome as Rob who wants a sacrifice of blood but otherwise feels exactly the same way. And, some of the plot holes were hard for me to deal with.  That said, I love the relationship between Kami and the other young folks the story is really about.  And the connection between Jared and Kami and the complication that Ash becomes was great.  There are really some sad moments on the pages of Untold.  And there are a TON of unanswered questions, that I hope get answered in the final book, Unmade (which I will be starting tonight). I will note that of all the 15 books I have neglected to write reviews on, this one, to me had the highest "can't-put-it-down" rating.  I will note, however, that I liked the cover for the first book, Unspoken (seen on the left), better and like the cover of Unmade even less.  And, the short stories for this series – get them free or don't bother.  They don't really add to the story and they, in some cases, are super short.
And the last
series to get some reading time was the Magisterium by Holly Black. I admit to thinking of these books when I saw the first few episodes of the new show on SyFy – The Magicians – which I understand is based on a book of the same name by Lev Grossman.  Especially the part about the testing and kids not succeeding and getting dumped back to their old lives seemed, in so many ways,  so similar to the scenes in the Magisterium's testing scene.  These are a little like Harry Potter (kids away at school, sorted into groups, learning magic) meets Seeker (who knows which is really the good side, which is the bad) meets a number of other things.  Biggest twist in the beginning is that the main protagonist wasn't the big deal magician that the school's staff was looking for.   But, there's a big bad guy attacking children and there were some really creepy things in this book.  Not spooky ghost story creepy.  But adults praying on and using children and other stuff like that creepy.  But, interesting and Holly Black is magical herself in her ability to write something that I can conjure in my head in great detail and it is like watching a movie as I read.  It is so easy to get lost in her worlds, emersed in the characters and the story, and to become so invested that I am desperate to read what is next.  So… my message to her and her publisher:  let's get on with it and release #3!!
I am going to try to add pages for all of these – in some form or another.  But I ask that you be patent and I will try to write more reviews and pages.  Goodness knows I need the pages as a lot of this is all swirling together into a big mixed up mess.
p.s. – to any worpress folks paying attention to my tiny little site:  I F'ing HATE, HATE, HATE, DESPISE, LOATHE, ABHOR, DETEST, [add your own synonym here] the "new posting experience"!!!!!!!!!!!!!!!  Give me back the old way, without all the extra steps.  I beg of you.