Main Characters:
Hazel Evans – a teenage girl who fancies slaying fairies.  She made a deal with them to get her brother a scholarship to a music school.  Part of the deal was that she give the Fairies 7 years of her life.  She doesn't know it at first, but she has been, for a few years, giving them her nights and the Alderking wipes her memories of the "nighttime Hazel", until she sets clues for herself because she doesn't like what she is doing at night and she finally sets Severin free.
Ben Evans – a boy who was gifted/cursed by a fairy to have the gift of music
Jack – a changeling that was meant to serve as Carter's replacement until Carter's mother figured it out and laid a trap of sorts for the changeling's mother.  Carter's mother decided to keep Jack to teach the Fairy a lesson.  Ben Evans' best friend.
The Horned Boy (aka Severin) – a boy in a glass coffin in the woods.  One day, after years and years of being in the coffin, it is set free.
The Alderking – the Fairy who rules the woods near the town.  He wants to capture Sorrow, the monster, and use her to defeat another fairy kingdom.
Sorrow (aka Sorrel) – Severin's half sister.  She becomes the monster in the forest that the Alderking is trying to harness.  She became the monster because Severin killed her husband.
Carter – the boy Jack was meant to replace.
Main Premise: the boy in the coffin one morning is mysteriously gone.  And the town is being attacked.  Hazel sets out to save the town.
Locations: Somewhere in the US (presumably since they talk about it being easy to get to NY and Philadelphia).
How it ended: Hazel did free the horned boy, one night after she decided she didn't want to help the Alderking and she started leaving clues to herself to free herself from the bargin.  Hazel also managed to kill the Alderking, Ben decides to stay with Severin (Ben is in love with him), Jack and Hazel become an item and the town is saved.
Other Important Things to Remember Later: This is a stand-alone (unfortunately), so I am not going to bother…!
Review:
I think back to when reading YA stuff became such an obsession for me, and I realized that while much of it has to do with my undying, unyeilding, still-growing-even-after-all-these-years, love of Harry Potter, much of the rest of the love/obsession came from two other authors: Holly Black and Cassandra Clare.  I picked up City of Bones when it first came out (I think it was one of a few that I picked up at the release party for Deathly Hallows – I think – one of the others I know for sure was the Alchymest (Nicholas Flamel #1) by Michael Scott).  And I devoured it.  The Club scene where Clary sees the Shadowhunters reminded me much of my youth when we trekked into Manhattan to go to the Limelight.
The story was enthralling and I loved it instantly.  I loved the world it was set in (right up until the dawn of City of Fallen Angels, when I was disappointed by the contrivances needed to stretch what I swear I remember seeing was originally slated to be a trilogy into more than that, but I digress…).  That was the start of the love affair with all things demon, vampire, werewolf, etc., in the YA world.  Holly Black's Tithe was the start of the love affair with YA Fae stories on the other hand.   I am not sure when I read this, but it was certainly after Sorcerer's Stone (as I read that before Chamber of Secrets came out – I was one of the not so large group to read the first right after it was published) but before City of Bones.  The dark and creepy gothicness of Tithe and its sister books sucked me in.  I couldn't get enough.  I even ended up diving into the Spiderwick Chronicles, clearly written for an even younger audience.  Then, some of the more mature PNR stuff started making its way into the to read pile and I flitted away from Holly.  I caught the Curse Workers when those came out (and really feel like there was unfinished business in the last of that series, and wouldn't turn away from one more of them) but the universe of books to read was just becoming impossible to track.  I do have a life outside of reading after all.  So, to it was much to my delight that I noticed I had missed a book that was both Holly Black's and Fae.  I hesitated because these days I tend to steer clear of stand-alones but for Ms. Black and the Fae, I didn't hesitate long.  And I am so glad I read this one!
The gist of the story goes something like this:  in the town of Fairfold (some where in the US presumably based on the relative ease of a move to Philadelphia by Hazel's family at one point), the Fae are a part of life.  There is a horned boy in a glass coffin near the town that has been sleeping for ages.  Hazel and Ben, her brother, hunted Fae when they were little, pretending to be knights.  Jack is both Ben's best friend and a changeling. One day, the horned boy is set free and a terrible monster is set upon the town.  Hazel is trying to solve the mystery of the horned boy's release because all signs seem to point to her being the one who broke his glass coffin.  She encounters the Alderking who requires that Hazel bring the horned boy to him, as well as a sword Hazel found when she was younger.  Turns out, Hazel also made a bargain with the Fairies when she was younger and she has been serving the Alderking as a knight for some time, during the night, without her remembering (her not remembering is thanks to the Alderking's magic).  Hazel wants to rescue the town, the "boy" she loves, and the horned boy.
I found this to be one of my favorite stand-alone stories in a while.  The suspension of reality is just enough to bring magic to the story but not so much so as to be overdone.  Some of the elements were, I thought keen observations of society.  While others made me happy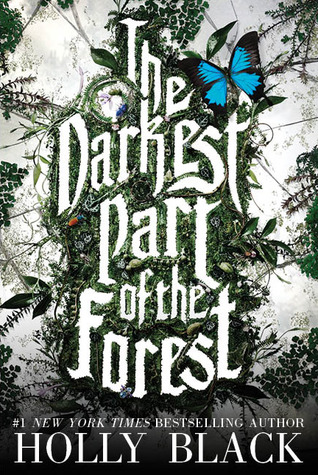 that they were teaching a message of tolerance and courage.  The scene where Carter's and Jack's human parents are at their house defending Jack and Hazel's mother also stands up for Jack were both demonstrative of the mass hysteria that humans get swept up in, so often without all the facts and based in fear alone, as well as how important it is for good people to stand up to injustice.  Especially when the injustice is being done to others.  While I can't say whether Ms. Black intended that social commentary or lesson, or whether it was just what I read into it, I thought it was well written and provided clues to me that this was going to be a story with an ending I would be pleased with.  And I was so happy to get to the end and find that feeling was completely accurate.
There are some dark and scary moments.  It is indisputable that the portion of the narrative around a 10 year old girl finding a boy's dead body, half eaten by something, only to then have her be attacked by a hag intent on killing her, only to have the 10 year old strike the hag dead with a magical sword, is grim.  The story of the monster, her genesis, and how that is resolved is both dark and clever, disturbing and understandable.  And many of the details in between are creepy and scary.  But, like always with Ms. Black's storied, the imagery is wonderful and  it is tremendously easy to get swept up in the story.  I had a very difficult time putting this one down.  I just wish there was the potential to see more of Jack, Hazel, Ben and Severin.