I don't often review a series at a time, instead of reviewing each individual installment.  But, in the case of the Lana Harvey series (at least as of the end of book 4),
I am going to make an exception.  Not because each book doesn't deserve its own review, but purely as a matter of efficiency and because I read them each over the course of a day or two (tops) and back-to-back so they really felt like one big book to me.  And, well, this is my little blog and I set the rules.  Ok, I feel like my 2 year old now and feel that I should be sticking my tongue out at somebody in an act of pure juvenile defiance!
The Lana Harvey series, by Angela Roquet, stands at four books so far: (1) Graveyard Shift, (2) Pocket Full of Posies, (3) For the Birds, and (4) Psychopomp.  The fifth is coming soon – Death Wish.
first things first, let's explain what this series is all about.  It's about a Reaper (yes, as in Grim) who is charged with transporting souls right after death to their particular after life.  And each soul's particular  afterlife is determined by their faith while living.  So, the Christian's version of things is right beside the Muslim, right beside the Jewish, right beside the Egyptian… (you get the idea).  
That makes for a vast and interesting well of deities and beliefs to draw from and to build a world around.  Pretty clever, and the world building was pretty well done.  Now, this series isn't just about the escapades around the transport of random souls in each installment.  There is an overall story arc that drives Lana and Grim and all the others, while transporting souls of course.  And it has to do with keeping Eternity from collapsing into War.  It's pretty original.
I realize that I think I need to add another category to this little blog of mine, as this was "billed" as a horror, but it certainly didn't meet my standards of horror.  I thin
k of Michael Scott's Reflection or Steven King when I think horror.  This never had the fear factor or the blood and guts spewing that I think requisite for books in the horror category.  And while one might thing that a story about a bunch of grim reapers would naturally fit into the horror category, the little bit of death and danger is no where near significant enough to justify the horror categorization.  Instead, I found myself chuckling more than cowering and smiling more than nail biting.  It wouldn't exactly call it a dark comedy (not quite enough chuckling or LOLs for that) but there were funny moments.  And, with the exception of a few scenes in Posies, even with the "romance" that goes with the main protagonist dating I am not sure I would classify this as PNR either.  So where does that leave me?  I'm going to categorize them in the PNR category because of the second book and because it seems after four books that Lana's love life is at least semi-important to the plot of the overall series.
Despite the fact that I really enjoyed the stories, some of the installments have much sloppier editing than others and some of them were littered with grammatical issues and typos. That was kind of frustrating. I really do credit (or I guess really it should be discredit) the self-publishing trend for that.  I don't know if these are self published books (goodreads doesn't note the publisher but says "Kindle") but the ability to turn out books by anybody without a professional editor is really making things hard for readers. It's not just limited to grammatical mistakes and typos either.  No, it perpetuates much deeper issues such as keeping track of overall plot points and issues around story editing too.  I will note here, however, while there are a few blips on the radar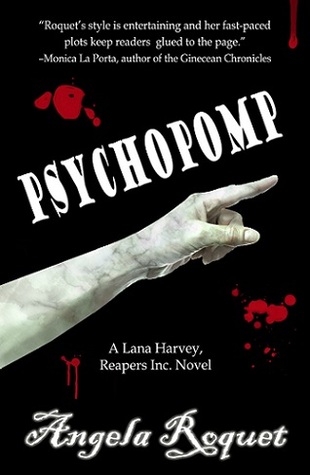 from a story perspective the bulk of the issues I have with this series seem to be around the grammatical mistakes and typos.  But they weren't big enough issues to keep me from reading all four that are currently published, and they definitely weren't bad enough to keep me from looking forward to the fifth book.
I do wonder what's with the quote at the beginning of each chapter? Is it an attempt by the author to show how well read she is? An attempt to show off and show the readers how well educated she is? A way to rub it in your face the fact that some of those quotes and people are unfamiliar? Frankly it feels a little… well annoying is the best word I can think of at the moment.  Again this isn't enough to prevent me from looking forward to the next book however.
The author clearly was well researched and spent a lot of time learning what she needed to to create a detailed and fairly complicated world for our characters to be living and working in.  And the best part is, most of it works.  There are few places where I am left scratching my head thinking that there might have been an easier way to do something and something felt a little convoluted.  But overall, it worked.  The characters worked.
The story worked.  And I am happy to say that when you put all of the different faiths together there was a way to make that work. It feels mostly like the author took a very complicated puzzle and somehow managed to get all of the pieces put them together and give me a great and complete overall picture. There are funny moments and there are sad moments. There are characters you can root for and characters you can root against. And there some real human emotion coming from characters who aren't even close to human. I have been enjoying this series very much.  I will say, one of the funniest things, throughout the series, has been the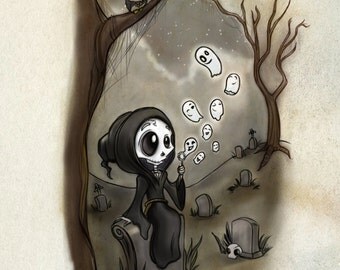 mental picture of Lana donning her "reapers robe"….  but again, it works!
So, I am not sure what else there is to ask for.  Except to hurry up and get Death Wish published!