I should play the lottery!  I have just read another near perfect book – that makes two in less than 3 months!  I almost can't believe it.  Why I feel that I have had a string of good luck lately, in that it has been some time since I read something I really can't stand, reading two books that I thought were so amazing, so close in proximity, makes me feel like I hit the lottery already.  What book am I talking about?  The Secret Fire by C.J. Daugherty and Carina Rozenfeld.  It was awesome.  Pure awesome.  In a year of mostly books that were decent, and the rare exception being exceptional, I felt like I hit the lottery (or found Waldo)!
YA books all sort of start to look alike.  Who can tell them apart?  The plot of one is like the plots of ten others.  
Finding a new and interesting story can feel like a Where's Waldo exercise.  You know he's there somewhere, in the midst of all these others who are oddly similar and yet slightly different simultaneously.  There are distinct groups of items or people too, which have something that is fundamental and different from the rest, yet they are all still so similar that they all look alike and make it super hard to find that little Waldo man in his red striped hat.  You know it shouldn't be that hard to find him, but you look and you look and it seems to take forever to find the one truly unique part of that puzzle.  That's what the YA genre feels like these days.  After all, I wouldn't need this little blog, really, if the stories were so unique that it was easier to keep the details of one series separate from the details of another series.  There's lots of vampire stories: Twilight, House of Night, Vampire Academy, Vampire Diaries, Blue Bloods, the Originals….  And lots of angel/demon stories: Fallen, Hush Hush, Unearthly, Guardians, Mortal Instruments….  And lots of shifter stories, witch stories….  The lists go on an on.  So, when something unique comes along, it is a breath of fresh air.  the Secret Fire wasn't filled with the same old stuff.  The Secret Fire is different.  In fact, I am not even sure which little sub-category to file a page for this one under.  Witches?  Demons?  I don't have an alchemist category…. so where to put it?  I don't know – maybe I will after I see where this story is going.  But for now, it is just so different!  It is awesome!
I couldn't put the darn thing down.  And that is an accomplishment these days.  I was eager to read during my lunch hour – and lately I haven't been taking lunch hour.  Then, when I hit the end, I felt like I had been hit in the chest with a medicine ball.  I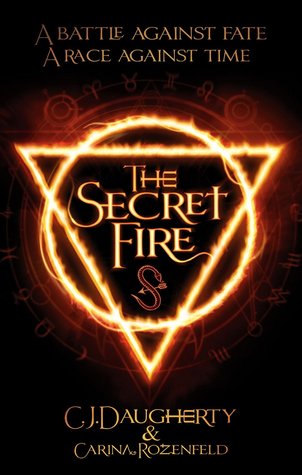 couldn't believe it.  I had to double check the page count.  I was so lost in the story that I hadn't realized I was nearing the end of this installment.  And I don't want to wait for the next one.  I felt like my two year old – I wanted to throw a temper tantrum.  Because I want to read more of this story!!!!!!
What do you need to know about the plot?  Sacha and Taylor are two teenagers, living in different countries, but thrown together by circumstances.  And, as it turns out, a really old curse by one family onto the other.  They hit it off, end up talking, discovering that they each have a secret, and it looks like fate has something in store for them.  Something that has to do with demons and the fate of the world.  Folks don't want them together, but they become fast friends and want to be together.  In a race against time, and to save Sacha's life, they end up discovering that together, they are extremely powerful.
If you are looking for magic, ancient spells, family curses and secrets, secret societies (of a sort – I don't want to spoil much since this hasn't officially been published yet, but suffice it to say that a particular college at Oxford is super selective and important to this story), all going on in the regular world around us with only a select few in the know, action, history, mystery, and a potential love story, then this book is for you!  The book was
perfectly balanced – character development, plot (and it's pacing), secrets and mysteries, setting and their descriptions, moments of shock and surprise – all of it was well done.  There were moments when I laughed, moments where I gasped in surprise, and moments where I knew I could not read fast enough because I had to know what was going to happen next.  Nothing felt particularly lacking, too sappy or overdone (there was a little teenage swoon going on, with Taylor blushing, but that's to be expected – it is YA after all), or too predictable.  At exactly the right moment the pace picked up and we watched characters zoom off into the night chasing their adventure and fate.  We got to know our two main protagonists pretty well, but it wasn't too slow an introduction or set up.  The collateral characters all seemed to serve a purpose and they were not just page fillers.  I love Louisa, by the way…  read it and you will see why!  It was amazing!  This is clearly a stand out in the sea of same-ness that the YA market place has become.  My only complaint?  That it ended and now I need to wait.  I must know what happens next.  I must!!!!