Dangerous Dream: A Beautiful Creatures Story by Kami Garcia and Margaret Stohl is the "0.5" in the newest series by Garcia and Stohl, Dangerous Creatures.  A spin-off of the Caster Chronicles, this seems to be the start of a series following at least Ridley and probably Link from the Chronicles.  I knew it was a short story going in (kind of had to know it by the full title) so at least I wasn't disappointed by a misconception as to the length of the story.
The good news is you didn't need to read the Caster Chronicles to really follow what was going on here. This is clearly the short story
 that sets up a new series and it is a very brief and short set-up. We do get introduced to some new players that I expect we will also see – Lennox and Sampson. It also looks like will be moving to New York City. At least New York City should be more exciting and provide more opportunities for all kinds of craziness and then Gaitlin South Carolina did.  We also get to see a few minutes of Lena, Liv, John and Ethan. And we're reminded about the status of things with the rest of the characters we had come to know in the Caster Chronicles.
To be honest though this is another one of those it's so short it's hard to write a review installments. I get that this is designed to drum up or keep excitement up while waiting for the next series, but it's hard for me to be really excited about these little tiny stories that don't really do much and aren't really necessary (although I guess it's better than the tiny little stories between installments that are necessary and never get actually addressed so if you miss them you're screwed).  At least this was one of the better written shorts.  I can't complain about the same plot issues, lack of character development or anything since it recognizes itself for the purpose it serves – it is really just an into.  It doesn't try to solve much and it just reminds us that there are characters we have grown to know and like and we will get to see more of (at least some of) them again soon.
The overall story potential for this new series seems just as interesting as it did in the first place, when I picked up the Caster Chronicles. So it's not like this adds or detracts from my desire to read the first full-size installment when it does come out. But at least it's better as prequels go then something like the Sisters Grimoire which I read not too long ago – if you miss this I doubt it'll make much of a difference, but if you manage to catch it and you enjoy the world that these two authors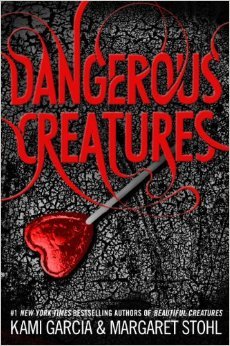 have built, then you're likely to enjoy this as a great way to occupy 15-20 minutes before reading Dangerous Creatures.