I don't know how I hadn't come across these books before. I picked up the newest through netgalley and was 3 chapters in (and totally LOVING it) when I realized it couldn't be the first. So, I spent a few minutes on goodreads and was thrilled to discover not just a book or two that came first, but six. I bought all of them right away (love Amazon – although I will note I never get all of the books at once like that; it is a testament to how wonderful I thought the first 3 chapters of the 7th book are that I did so). And I am already engrossed in the first book. I will pick #7 back up when I get to its rightful place in the order.
I love Flavia – she is a wonderful character (so far anyway) and I can't wait to read more about her. Reading the author's prose is like listening to a favorite song – so easy to read, so easy to smile while my eyes dart across the page, so colorful and it makes it so easy to conjure a mental picture of Flavia and her world. I could almost imagine being able to dance to it and the lyrics something I might unconsciously end up memorizing.
Flavia is an amateur detective and chemist prodigy.  In a family with two sisters, a physically present but emotionally mostly absent father, dead mother, jack-of-all-trades (and currently the gardener) ex-prisoner of war manservant and family cook, Flavia has a wild imagination and a wonderful mouth filter (because her thoughts are matter of fact and fantastical but they are merely thoughts, not words, and the very fantastical she never acts on).  She is a delight of a character.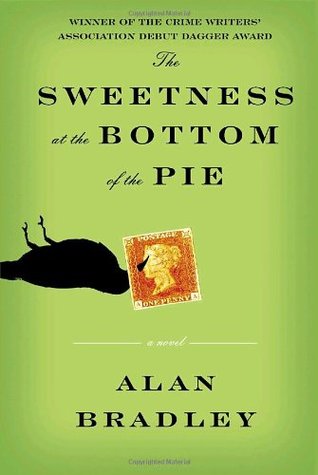 In this first installment, The Sweetness at the Bottom of the Pie, the mystery surrounds the death of a mysterious visitor and it kick starts her detective career.  A well built little plot, an intriguing mystery, and a rambunctious and smart young lady with an excellent vocabulary and sense of logic despite being merely 10 years old – and that shines through in many ways if you are looking for it – or maybe because she is merely 10, create a clever and fun read.
I was reminded of all the great Nancy Drew, Hardy Boys, Encyclopedia Brown, and all the great little mysteries that these presented I read when I was younger.  And in many ways, I was reminded of all the Agatha Christie that I have read too.
I had one question though throughout – it is a little unclear if the narration, which is from Flavia's point of view, is occurring as if Flavia is older, looking back and telling the stories, or is she just so exceptional that she has a better vocabulary than most of my colleagues (I suffer from the affliction of being a lawyer by day and so I think that's saying something about her vocabulary)?  Mr. Bradley, the author of this fine book sent me an email addressing this, after I posted to a comment on his blog (which can be found off his website), which I will share:
"Dear Kris,
It's always a treat to hear from a happy reader. Your shamefully flattering words will keep me going for weeks.
Flavia is, as you have spotted, very precocious. Although she has never defined the time-frame from which she is writing (some have suggested she's in her 70's!) my own personal opinion is that she's recording each tale not long after it has happened.
Thanks so much for taking the time to write.
With warm wishes,
Alan Bradley"
Binge watching is the latest thing with popular tv series but for me, I am more likely to binge read than binge watch.  And, this series is definitely going to cause me to binge.  I am so looking forward to continuing the Flavia marathon that just started for me!  Yarrooo!!!
Small Update – since writing this review (as short as it is), even though I failed to publish it, I have finished the entire series.  And I couldn't have enjoyed them more.  I will be posting pages on each, but will likely only review the last which I did receive from Netgalley.  It is precisely because I received it from Netgalley, in exchange for an honest review, that I will review it.  But, it is enough to say that I loved each and every installment and am eager for what ever is next with Flavia!