A Ghostly Gift was a rare treat indeed. It's not often that I think the little half installments are worthy of a full-length review. In fact,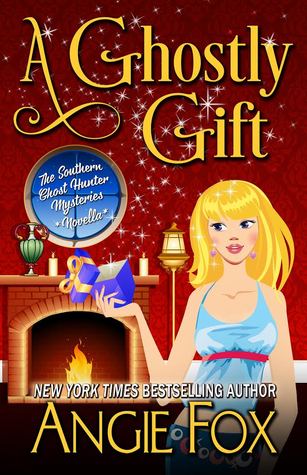 it is rare that I believe they are worth even a cursory review. However there are exceptions to this rule. And A Ghostly Gift by Angie Fox is one of those wonderful, delightful surprises of an exception. I don't usually buy anthologies like the one that A Ghostly Gift was in. And these anthologies seems to be a much more frequent occurrence in the paranormal/romance genre than in others. So, it was with trepidation that I decided to buy this anthology, especially since I really only wanted it for a single story.  But, it was worth the download because this Southern Ghost Hunters little story was a fun little read.
The mystery here has to do with a disturbance in a cute little secondhand thrift shop that the shop owner believes is centered around a knickknack and jewelry case. The store is owned by a friend of Melanie, Verity's sister. In exchange for getting rid of the ghostly problem Verity might actually manage to get some furniture! We are treated in this story to a glimpse of the 1920s prohibition era speak easy type bar scene. And a few great characters including a World War II soldier. The mystery doesn't take long to solve and has a an adorable ending that is both happy and sad at the same time.
It's a wonderful additional glimpse at Verity and what she is willing to do. It was also a great little extension of the rules of the world of Sugarland Tennessee and our resident ghost buster. The plot is not complicated, but it is not meant to be since this is one of those little novellas. The solution to the mystery, and how we get it, is not complicated either – ditto on the reasons why. But it was definitely a fun few minutes worth of a read.
I'm hoping that the expansion of Melanie's involvement, from a research perspective, is the start of things to come in (**fingers crossed hopefully**) another full length addition? Hint hint… I would also love to see more of the relationship between Melanie and Verity. We also didn't see Ellis this installment, so I can only hope for a full-length next book so that we can see him!
While we are robbed of Ellis time, we do get some good Frankie time. And Frankie helps further cement Verity's ties to the spirit world. 
There's so much color that comes through in Verity's stories (so far anyway) – from the use of some of the ghosts' expressions to Verity's old beat up car, and now her new purple velvet couch (love the mental image that description conjured – it looks so comfy in my mind)! It's a nice change of pace from some of what I think or quite frankly more depressing dystopian young adult reads. I know I'm the one who chooses to read them but I can only read so many of them back to back before I need a dose of good old-fashioned fun and laughter.  And I guess that's why this is considered a cozy mystery because when you look at how that particular type of book is described it includes the notion that when the reader is finished they are left feeling all warm and fuzzy inside. Like with the first book in the series, Southern Spirits, it fit that definition to T.
There was a cringe worthy moment that I must note.  Because I really don't think I can take seeing this reference or joke or whatever it was supposed to be.  What am I talking about?  The references to Verity having a proton pack as a
ghost buster. Really? I think once was enough and there is plenty of fodder in the Ghostbusters movies, characters (etc.) where jokes can be made about things other than just the proton pack.  No need for recycling the same exact joke.  It felt a little forced too.  And for a movie that is so old (despite the current conversations about remaking the movie(s), the original was funny at the time but the material is a little dated at this point) that it made me do a double check on the date of publication for the little story we have here.  Hopefully, more original references – or at least more current ones – will be made in the future.
When I opened the anthology it felt a little like unwrapping a Christmas present because I had to dig in to get to the story I was looking for. But once I found it and read it, it was just as nice a surprise as a present wrapped in shiny paper and a big pretty bow.